To Jamaica (January 2016)
At least once a year, Black Star Foundation visits the beautiful island of Jamaica. Also this year we had some people included to our trip: DJ Dab (Skank Around Sound) and Leah Rosier. A journey full of musical surprises, read the travel report here.
Week 1: Negril
We started in Negril, the most western point of the island with beautiful sunsets and the best ganja. Den-Den and Michelle (Black Star crew) could show DJ Dab (Skank Around Sound) the beautiful white beach of Negril, where reggae concerts take place on a regular base. We also played for tourist at Roaring River, a cave with cristal clear spring water.

DJ Dab with Black Star crew in Negril, Jamaica (2016)
Week 2: Rebel Salute Festival and Kingston
After a few days of chilling on the beach, we went up north for Rebel Salute Festival! With press tickets we had backstage access and we could enjoy 2 full nights of roots reggae music.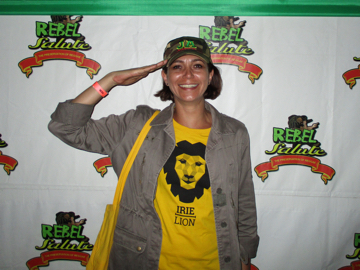 Michelle at Rebel Salute Festival (2016)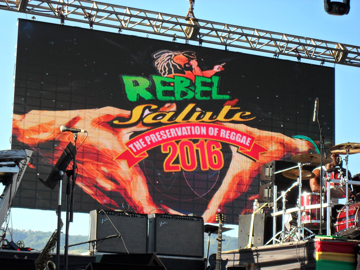 Rebel Salute Festival 2016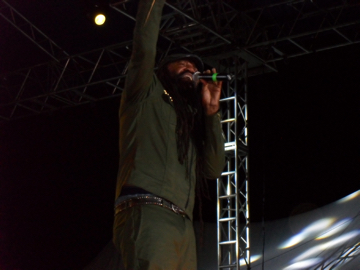 Tony Rebel at Rebel Salute Festival (2016)
Dab stayed for only 2 weeks, so after the festival we went straight to Kingston forte weekly events Dubclub and Raetown on Sunday. For years, Raetown took place in the eponymous neigborhood in Kingston, but is now moved to Sabina Park, the big cricket stadion in town. Still the same old-skool vibes. Dab was having the night of his life!
In the upcoming days we visited the legendary Studio One, on walking distance from our yard in Kingston (Crossroads) and we recorded some dubplates for Black Star Sound with Bernard Collins (The Abyssinians), Eek A Mouse, Exile Di Brave and Half Pint! We visited Hellshire Beach and passed by a few of the regular Kingston events, like Weddy Weddy Wednesday on Wednesday en Vinyl Thursdays on Thursday.
Week 3: One Go - One Come
Dab went back to Holland and Leah arrived that same day in Jamaica. So up and down to Montego Bay, together with Harald, our loyal driver who is driving us around in Kingston for many years.
We visited the houses/studio of Anthony B in Portmore. We also went to different new events in town, like Intercity Dub and Mojito Mondays (where you can see a lot of different dance groups). Besides that, we have played a 45 minute set on Bess FM Radio and Leah had an interview about her brand-new album 'Only Irie Vibes'. Highlight of the week was Black Sound playing at Vinyl Thursdays. What an event!
Week 4: Girls in town
Den-Den went back to Holland, Michelle and Leah were still there. Two Dutch girls in Kingston, Jamaica! It took of great with a party Firehouse & Friends. The Firehouse Crew played with no less than 22 different artists, like Luciano, Mikey General and Sizzla. On Wednesday Februari 3 the official opening of the Reggae Month took place in the Nelson Mandela Park on Halfway Tree with Half Pint, Iba Mahr and Capleton.
Week 5: More parties..
Subclub (Sunday), Innercity Dub and Mojito Mondays (Monday), Boasy Tuesday (Tuesday), Weddy Weddy Wednesdays (Wednesday), Vinyl Thursdays (Thursday) are some of the weekly events in Kingston. Miss Kemp (manager of Capleton) had a big celebration with a festival with Bushman, Carleton and many others. I was especially surprised by the young and talented Nadia McAnuff.
Week 6: Recordings..
Our last week in Jamaica.. We recorded some new tunes with Mikey General, Jahbar I and our taxi driver in Kingston Harald 'Red Ash' Davis. What a surprise, the man can sing! :o)